PRODUCT INFORMATION
Nutritional Information
Feeding Instructions
Short Description
CUSTOMER REVIEWS
PRODUCT INFORMATION
Boost your dog's diet with some fresh frozen raw food with new Primal Raw Toppers! Each bag contains small bite-size pieces that are easy to scoop and serve, making adding raw to your dog's diet fast and convenient! Quickly thaws for easy serving and eating. Each bag is bursting with nutritious high-quality proteins! Only made with humanely and sustainably-sourced meats. The Market Mix line features pure raw meat, bone, and organs mixed with fresh organic produce for a protein-packed and nutrient-dense meal mixer! A great natural source of antioxidants! The perfect way to add extra moisture, protein, and nutrition to your dog's diet! Easily digestible formulas for sensitive stomachs. Try as a tasty topper on kibble, wet food, freeze-dried, and more! Your dog won't be able to resist these flavorful meal mixers! Made in USA. Primal is a trusted fan favorite of the Pet Beastro!
Key Benefits
Humanely Sourced
Manufactured In USA
Organic Produce
No Antibiotics
No Synthetic Vitamins
Nutritional Information
Ingredients
Turkey, Turkey Neck, Turkey Heart, Turkey Liver, Organic Kale, Organic Squash, Organic Blueberries, Organic Cranberries, Organic Parsley, Organic Celery, Organic Ginger.
Guaranteed Analysis
Crude Protein 13% MIN
Crude Fat 4% MIN
Crude Fiber 1% MAX
Moisture 79% MAX
Ash 2.8% MAX
Caloric/Protein Content
26 kcal/oz
Feeding Guidelines
To serve, simply remove bag from your freezer, pour the appropriate amount over your pet's regular food, and allow to thaw. Only serve Primal raw foods when completely thawed—frozen foods can be difficult for animals to digest. Never microwave any pet food.
Use stainless steel bowls when feeding any raw product. Other materials, such as plastic and porcelain, are porous and can trap germs over time.
Short Description
Boost your dog's diet with some fresh frozen raw food with new Primal Raw Toppers!
Free Local Shipping.
All orders of $50 or more of eligible items across any product category qualify.
Payment Methods.
Credit Card: Visa, MasterCard, Maestro, American Express.
Returns & Refunds.
You can return any item purchased within 30 days of the delivery date at any of our local stores.
Your shopping bag is empty.
MY WISHLIST
Your wishlist is empty.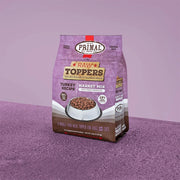 Primal Market Mix Raw Topper Turkey Formula Cat & Dog Food 5lb