PRODUCT INFORMATION
Nutritional Information
Feeding Instructions
Short Description
CUSTOMER REVIEWS
PRODUCT INFORMATION
The kitchen is so often the heart of the home. It is where our family gathers for meals, where we have our game night, where family bonds grow. We eat there, we laugh there we feed our pets there. The inspiration for these delectable selections come from feeding our precious Cats in the Kitchen. Bring your cats to the heart of your home and share with us these savory cuts of white breast meat chicken and duck breast. .. delicate gravies, some with pumpkin for healthy digestion. .. loins from tuna, salmon and mackerel. .. and lean cuts of beef all fit for our kitchen carnivores. These recipes are among our most delicious offerings. We hope your kitties love Cats in the Kitchen as much as the WeRuVa cats do Webster, Rudi & Vanessa approved!
Nutritional Information
Ingredients
Short Description
The kitchen is so often the heart of the home.
Free Local Shipping.
All orders of $50 or more of eligible items across any product category qualify.
Payment Methods.
Credit Card: Visa, MasterCard, Maestro, American Express.
Returns & Refunds.
You can return any item purchased within 30 days of the delivery date at any of our local stores.
Your shopping bag is empty.
MY WISHLIST
Your wishlist is empty.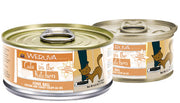 Weruva Fowl Ball Chicken and Turkey Recipe Au Jus 3.2oz