PRODUCT INFORMATION
Nutritional Information
Feeding Instructions
Short Description
CUSTOMER REVIEWS
PRODUCT INFORMATION
And I think to myself, what a wonderful' fish. Tilapia nilotica, fish of the Nile, plays a fascinating historical role. Evidence, in the form of hieroglyphic paintings and carvings suggest that not only was tilapia harvested by ancient Egyptians, tilapia was the food of many Pharaohs. Because biblical tradition holds that tilapia was the fish Jesus multiplied and fed to the masses, some have come to know tilapia as St. Peter's Fish or Wonder Fish.
Nutritional Information
Ingredients
Short Description
And I think to myself, what a 'wonderful' fish.
Free Local Shipping.
All orders of $50 or more of eligible items across any product category qualify.
Payment Methods.
Credit Card: Visa, MasterCard, Maestro, American Express.
Returns & Refunds.
You can return any item purchased within 30 days of the delivery date at any of our local stores.
Your shopping bag is empty.
MY WISHLIST
Your wishlist is empty.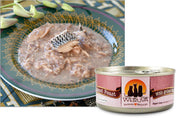 Weruva Mideast Feast with Grilled Tilapia in Gravy 10oz